Official Groovy Stuff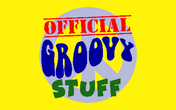 Welcome to Official Groovy Stuff, man. We're Ruth (Root) and Dave, a sis & bro business team.
Root is the righteous tie-dye artist, crafter, seamstress, and embroidery maker. So along with dyeing those diggin' duds, she also completely hand crafts the far out Official Hippie Gnomes, the bitchin' boho bracelets, and everything else that's under the Official Groovy Stuff (OGS) brand (placemats, pot holders, napkins, etc.).
Dave is the outta sight graphic artist, laser creater, and 3D print creator. He does the design and applications for those fab items that have any vinyl lettering, laser etchings, and/or printed images. He also makes awesome 3D printed items, like lamps and plaques. Together they bring you all the cool items to put you in the groovy vibe. Can ya dig it?
So look around and find you something trippy to let your inner hippie out to play.
Peace and love, baby!